Pope John Paul II / Forgiveness Vatican 1997 Coin Unc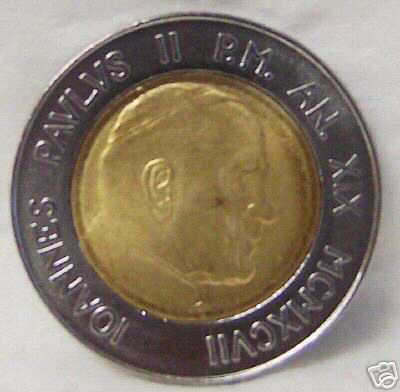 PHOTOS IN THIS LISTING ENLARGED TO SHOW DETAILS.
COIN MAY HAVE SUPERFICIAL NICKS AND SCRATCHES AND COIN MAY HAVE SPOTTING, TONING, AND/OR OXIDATION RELATED TO AGE.
COIN YOU RECEIVE MAY VARY FROM THE ONE SHOWN IN PHOTO BUT WILL BE IN SAME GENERAL CONDITION.
PARDON GLARE IN PHOTOS.

This listing is for one uncirculated:
POPE JOHN PAUL II / FORGIVENESS
VATICAN 1997
500 LIRE BIMETALLIC COIN UNC
Under Pope John Paul II, the Vatican created new, innovative and impressive coin designs every year. 1997 was no exception.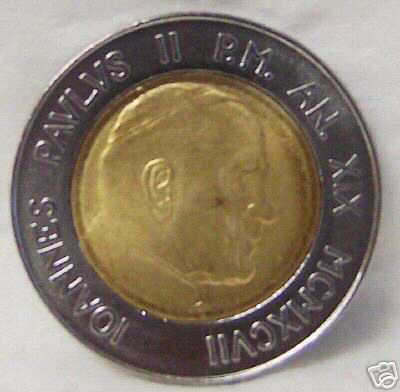 One side of this beautiful Vatican bimetallic coin shows Pope John Paul II in profile facing right and is inscribed: "JOANNES PAVLVS II P.M. AN. XIX MCMLXCVII." "AN. XIX" refers to the 19th year of the Papacy of Pope John Paul II and the rest of the Roman numerals indicate the year of mintage, 1997.
The other side of the coin shows a scene representing forgiveness and officially described as "one man freeing another from thorns." This side is inscribed: "CITTA DEL VATICANO L500."
Beautiful edge with reeded and smooth segments.
This coin was legal tender prior to the institution of the Euro. It has a diameter of about one inch and is slightly larger than a USA Quarter.
Honor the memory of this great Pope, known as the Apostle of Peace, by proudly owning this hard to find coin minted in 1997.
"At a time marked by profound and rapid change, Catholics are called to offer their country new intellectual and moral energy to build a future inspired by the civilization of love. May honesty in every area of social life, willingness to mutually forgive one another and to seek reconciliation, acceptance of the weak and support for the poor, respect for the person and his dignity, attention to the authentic needs of the family, the primary cell of every society, be inescapable reference points on the journey towards the new Christian millennium. "
FROM THE
ADDRESS OF POPE JOHN PAUL II
TO A GROUP OF PILGRIMS FROM
Zadar, Croatia
Friday, 31 January 1997
This Vatican coin makes an inspirational collectible gift for yourself or someone you know.
TO AVOID DISAPPOINTMENT,
BUY IT NOW
OUR SUPPLY IS EXTREMELY LIMITED AND ONCE THE CURRENT SUPPLY IS EXHAUSTED, NO OTHER POPE JOHN PAUL II / CHILDREN VATICAN COINS WILL BE AVAILABLE.
100% GUARANTEE OF AUTHENTICITY
Please be sure to ask questions before buying so you are completely satisfied with your purchase.
This coin ships free to the USA by USPS First Class Mail with delivery confirmation.
We combine shipping. The discount for combined shipping depends on what items you are buying. We will be glad to give you a combined shipping quote for any combination in which you are interested. Ask for the combined shipping quote prior to buying.
Best Values
Related Items