Lion Head First Coin Of Congo 10 franc 1965 Coin Unc
This listing is for one uncirculated:
LION HEAD
FIRST COIN OF CONGO
10 FRANC 1965 UNC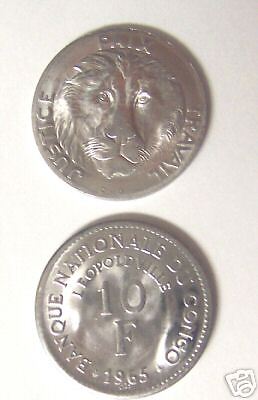 After a series of riots in 1959, Belgium granted independence to the Congo in 1960. The country immediately fell into a bloody civil war. Finally, in 1965, it issued its first coin as an independent nation. It was a large aluminum 10 Franc piece featuring an attractive lion's head.
BECAUSE OF INFLATION, THIS COIN RARELY CIRCULATED AND MOST WERE SUBSEQUENTLY MELTED, MAKING IT DIFFICULT FOR COLLECTORS TO ACQUIRE TODAY!!!
Photos enlarged to show details.
THE COIN YOU PURCHASE MAY VARY SOMEWHAT FROM THE ONE SHOWN IN PHOTOS BUT WILL BE IN THE SAME GENERAL CONDITION.
Coin may have minor wear of finish and/or nicks from stacking at the mint.
Coin may have minor scratches and/or spotting and/or toning and/or oxidation.
Diameter of coin is about 29 mm (about 1 3/16 inches).
This aluminum coin is larger than USA quarter (24.26 mm in diameter) but smaller than USA half dollar (30.61 mm in diameter).
The obverse features the proud detailed face of an African lion with the surround inscribed: "JUSTICE PAIX TRAVAIL." (This is French for justice, peace, and work.)
The reverse shows the denomination "10 F" and "Leopoldville." The surround reads: "BANQUE NATIONALE DU CONGO 1965".
100% GUARANTEE OF AUTHENTICITY!!!
Please be sure to read this listing carefully, thoroughly and completely and to ask questions before buying so you are completely satisfied with your purchase.
This listing includes free shipping to USA by USPS First Class Mail with delivery confirmation.
Click To Enlarge
Item #: LION HEAD CONGO COIN
Manufacturer: CONGO
Manufacturer's Product Number: 1119651
Condition: New