Kurdistan Saladin 03 Limited 300 Mispell Error Coin Unc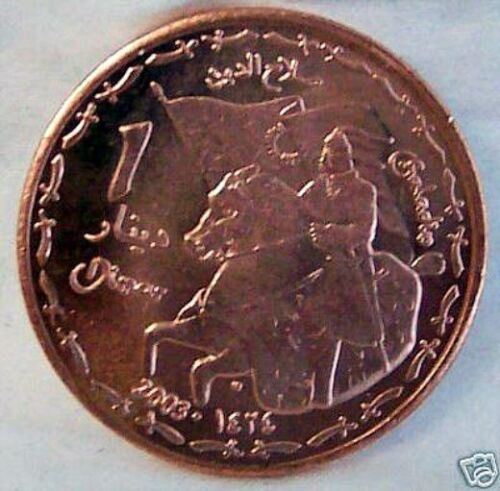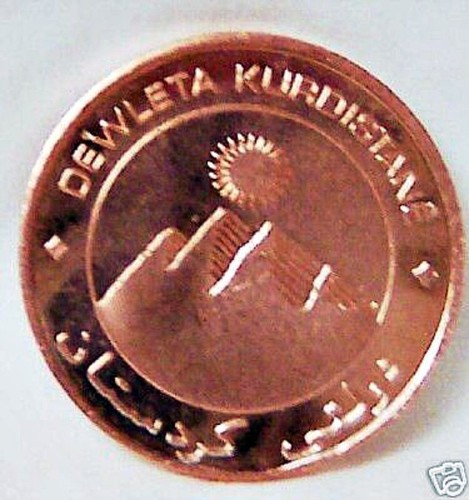 ONLY 300 PIECES OF THIS ERROR COIN WERE STRUCK!!!
This listing is for one uncirculated:
KURDISTAN
1 DINAR SALADIN 2003
LIMITED MINTAGE 300 PIECES ONLY!!!
SPELLING ERROR COIN UNC
PHOTOS ENLARGED TO SHOW DETAILS. PARDON COLOR CHANGES AND GLARE IN PHOTOS.
Coin you receive may vary somewhat from the photo but will be in same general condition.
Coin may have minor wear of finish and/or nicks from way these coins are stacked at the mint.
Coin may have minor spotting and/or toning and/or oxidation.
In expectation of Kurdistan gaining independence from Iraq after the second Gulf War, Kurdish groups in exile authorized the first modern coins of Kurdistan. When the initial 1 and 10 Dinar coins were struck, Kurdish officials discovered that the name of the country was misspelled using the Arabic alphabet.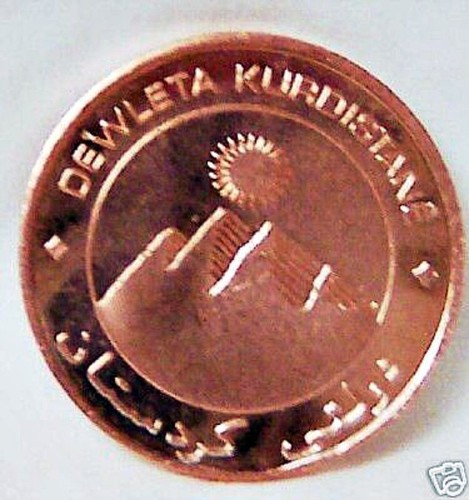 To the untrained eye, the difference is that the correct version has two squiggly marks in the bottom of the legend on the coin while the error version has only one mark.
Only 300 pieces of each of the error version were struck.
A new die was prepared and a corrected version was issued. Unfortunately the United States did not allow Kurdish independence, so this remains a government in exile issue.
These 1 Dinar coins are 27mm in diameter, are struck in bronze-plated zinc (larger than U.S. quarter which is 24.26 mm) and picture Saladin on horseback carrying a modern Kurdish flag. Saladin, foe of Richard the Lionheart and the Crusaders was a Kurd who founded the Ayyubid Dynasty. His diplomatic skills, backed by a well-disciplined army enabled him to gain control of Egypt, Palestine and Syria from Islamic as well as Christian opponents. Even his opponents admired him for his chivalry, justice and piety.
Mountains have figured prominently in Kurdish lore, so the reverse features four mountain peaks, which also represent the four nations with major Kurdish populations. Above the mountains is a 21-rayed rising sun, which is a traditional Kurdish symbol predating the nations conversion to Islam. The legends are in the two main dialects of Kurdish: Sorani and Kurmanji.
Own this major goof coin which is hard to obtain and makes a great collectible gift for yourself or someone you know.
To avoid disappointment,
BUY IT NOW!!!
100% GUARANTEE OF AUTHENTICITY
Please be sure to read this listing carefully, thoroughly and completely and to ask questions before buying so you are completely satisfied with your purchase.
This listing includes free shipping to USA by USPS First Class Mail with delivery confirmation.
Click To Enlarge
Item #: C01V01M05P01C11L23KURD2003ERROR
Manufacturer: KURDISTAN
Manufacturer's Product Number: K3920030
Condition: New