Eritrea Elephant Leopard Zebra Antelope Ostrich Coin Set Unc
This listing is for one 5 coin set, uncirculated:
ERITREA INDEPENDENCE
WILDLIFE
antelope, leopard, ostrich, zebra, elephant
1997 5 COIN SET UNC
Great additon for your collection or as a starter coin collection set for your child/grandchild!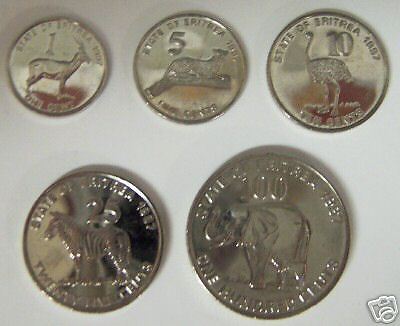 Photos enlarged to show details. Pardon glare in photos.
COIN HAS SUPERFICIAL NICKS AND SCRATCHES AND MAY HAVE SPOTTING, TONING, MINOR WORN FINISH, AND/OR OXIDATION RELATED TO AGE.
COIN YOU RECEIVE MAY VARY FROM THE ONE SHOWN IN PHOTO BUT WILL BE IN SAME GENERAL CONDITION.
PARDON REFLECTIONS IN PHOTO DUE TO COIN BEING HIGHLY REFLECTIVE -- YOU CAN SEE CAMERA LENS AND/OR FINGERS REFLECTED ON COIN.
These five coins were
the first issued since Eritrea gained independence from Ethiopia!!!
Eritrea is an Eastern African country, north of Djibouti and Ethiopia, west of the Red Sea, and east of the Sudan. Eritrea gained its independence from Ethiopia in 1991 after a 30 year war. Due to the war and persistent drought, its rich species diversity has diminished and many of its animals are endangered species. These coins are 5 of only 6 coins issued for circulation by Eritrea since it gained its independence from Ethiopia. The 6th coin was a 50 cent coin also issued in 1997 and is not currently available.
The 1997 dated coins feature native wildlife:
The 1 cent coin shows an antelope.
Most antelope in Eritrea are gazelles which are remarkable for their ability to survive in areas with scarce water supply. They use their grace, speed and alertness to avoid their predators.
The 5 cent coin features a leopard.
Leopards are noteworthy for the range of territory they can cover and the diversity oftheir prey, amongst whom are antelopes. The strength and speed of a leopard is such that it may catch an antelope then climb a tree with the antelope hoisted over its back.
An Ostrich is displayed on the 10 cent coin.
The ostrich is the largest, heaviest, and most powerful bird on the planet! The ostrich is very well adapted to desert life, getting water from the plants it eats. These huge birds, which sometimes reach a height of 2.6 m (almost 8 feet) and a weight of 135 kg (almost 300 pounds), cannot fly but are very fast runners.
A zebra is on the 25 cent coin.
Each individual zebra has stripes as unique to it as our fingerprints are to us. The stripes tend to confuse the zebra's enemies. Zebras are close relatives of the horse. The continued survival of zebras in Eritrea is threatened. Their slow rate of reproduction makes them more vulnerable.
The Largest coin of the set, the 100 cent piece, is adorned by the largest animal - the elephant.
The elephant is the largest terrestrical animal on earth.

The elephant is the largest land-mammal.

The elephant is the second tallest member of the animal kingdom--only the giraffe is taller.

The African elephant adult male is much larger than the adult female. Head and body length including trunk: 19-24 feet. Shoulder height: 10-13 feet. Weight: 5.5 - 7 tons. Tail: 4 feet.
Through the 1990s it was known that Eritrea had a remnant population of elephants; however, experts believed this population to be as low as 8 - 50 individuals. Today, in part due to conservation efforts, the best estimate is that there may be 100 elephants in Eritrea.
The Eritrean elephants display some intriguing behaviors. At one watering hole, they formed orderly queues to drink, each queue kept in line by one adult who served as supervisor. Olive baboons have formed a symbiotic partnership with Eritrean elephants. The baboons drink from the water wells dug by the elephants, while the elephants use the baboons as a tree-top early-warning system to alert them of approaching predators.
The elephants of Eritrea seem in good shape and are reproducing. Long-term plans to protect them include a solar-powered elephant-proof fence to reduce conflict with farmers - and possibly relocating farmers away from the Gash River floodplain where the elephants are dwelling.
Photos enlarged to show details. Pardon glare in photos. They are silvery in color with great detail and highly reflective!
The reverse of each of the five coins shows soldiers carrying the Eritrean flag and is inscribed:
"LIBERTY EQUALITY JUSTICE."
"1991" is inscribed on each reverse to commemorate the year Eritrea gained its independence.
All five coins are struck in nickel alloy and are shiny with fine detail
The 100, 25, 10, and 5 cent coins all have reeded edges whereas the 1 cent coin has a plain edge.
Please be sure to read listing carefully, thoroughly, and completely and to ask questions before buying so you are completely satisfied with your purchase.
This listing includes free shipping to USA by USPS First Class Mail with delivery confirmation.
Click To Enlarge
Item #: C01V01M05P01C11L23WLDLFERTR#5CNS
Manufacturer: ERITREA
Manufacturer's Product Number: 1991997
Condition: New