Disney Wonderfully Wicked Horned King Villain LE Pin New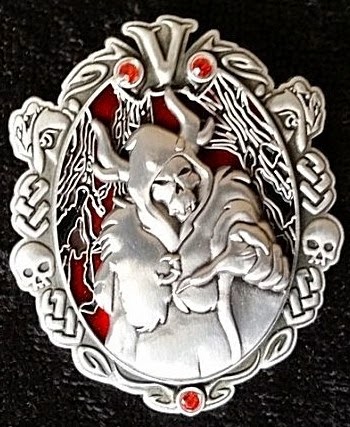 PHOTOS ENLARGED TO SHOW DETAILS
PARDON GLARE ON PHOTOS
This listing is for one new on card:
Disney
Wonderfully Wicked
Horned King
The Black Cauldron Villain

LE 3000 Pin New On Card
Card may have minor shelf wear as sold by Disney including
rips, tears, folds, and/or creases.
Color of card and pin you receive may differ from that shown
as dye lots vary.
Pin may have minor wear of finish as sold by Disney.
Mickey Ears Pin Backs may have imperfections as sold by Disney
such as missing ears or size differences.
Disney's "Wonderfully Wicked" collection showcases some of the most famous Disney villains. This listing is for one pin in the series - The Horned King from The Black Cauldron Pin. This 3D embossed Limited Edition Wonderfully Wicked Pin of the Month is pure [evil] genius! Just ask The Horned King who is framed by skulls and masks. There are three red jeweled elements. Pewter finish. Released at both WDW and DLR.
Date of Release March 19, 2015
About 1.675" H max dimension
About 1.375'' W max dimension
Limited Edition of 3000
Made In China

We have a very limited supply, so to avoid disappointment
BUY IT NOW!!!
This Disney Wonderfully Wicked Horned King The Black Cauldron Villain LE 3000 Pin New On Card makes a great collectible Disneyana gift for yourself and/or someone you know.
100% GUARANTEE OF AUTHENTICITY.
Please be sure to ask questions before buying so you are completely satisfied with your purchase.
This listing includes free shipping to USA by USPS First Class Mail with delivery confirmation.

identifier_exists: FALSE
ISBN: FALSE