Disney Swarovski Dumbo Brooch Easel Set LE 1000 New In Box
THIS DUMBO MAY BE WORN AS A BROOCH AND ALSO MAY BE DISPLAYED ON ITS SPECIAL EASEL
This listing is for one BRAND NEW in box, never worn:
DISNEY
DUMBO
SWAROVSKI CRYSTAL PIN BROOCH & SPECIAL EASEL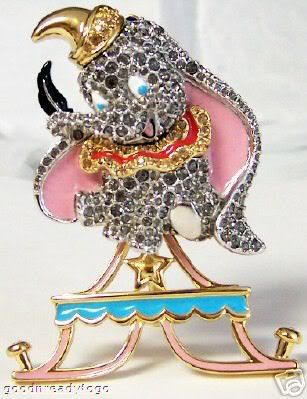 LIMITED EDITION -- ONLY 1000 PIECES ISSUED
WITH NUMBERED CERTIFICATE OF AUTHENTICITY (Your prized Dumbo Brooch and Easel Set number may vary from the one shown)
DUMBO IS WEARING HIS GOLDEN CIRCUS CAP AND HOLDING HIS MAGIC FEATHER IN HIS TRUNK WITH HIS SPECIALIZED EARS POISED FOR FLIGHT. HE IS SMILING IN ANTICIPATION OF HIS TAKEOFF.
DUMBO PIN ABOUT 2" H X 1.75" @ WIDEST
SPECIAL CIRCUS TENT EASEL SHOWN WITH MAGNETIC PIN HOLDER DETACHED. 2 SWAROVSKI CRYSTALS ARE PRESENT 1 ON EACH SIDE OF MAGNETIC PIN HOLDER.
FRONT, SIDE AND BACK VIEWS OF EASEL WITH MAGNETIC PIN HOLDER ATTACHED AND BACK LEG EXTENDED. 5 SWAROVSKI CRYSTALS VISIBLE ALONG BACK LEG OF EASEL, 2 SWAROVSKI CRYSTALS VISIBLE IN BASE, ONE AT EACH END, AND BLUE SWAROVSKI CRYSTAL AT TOP

EASEL ABOUT 3" H X 2" @ WIDEST (BASE)
PIN BACKSTAMPED WITH DISNEY AND SWAROVSKI LOGOS AND PEANUTS TO KEEP DUMBO HAPPY, WELL FED, AND FUELED FOR FLIGHT
EASEL BACKSTAMPED WITH DISNEY AND SWAROVSKI LOGOS
CLASPING ROD OF PIN SHOWN INSERTED THROUGH TRACK IN MAGNETIC PIN HOLDER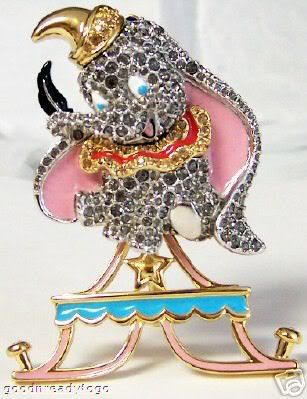 MAGNETIC PIN HOLDER ATTACHES PIN TO EASEL FOR DISPLAY. DUMBO IS PERCHED ATOP THE BIG TOP READY TO TAKE FLIGHT.
AN ORIGINAL DISNEY DESIGN MADE EXCLUSIVELY FOR DISNEY BY SWAROVSKI
ART OF DISNEY COLLECTION
The Walt Disney Gallery

SO TO AVOID DISAPPOINTMENT
BUY IT NOW!!!
100% GUARANTEE OF AUTHENTICITY.
Please be sure to ask questions before buying so you are completely satisfied with your purchase.
FREE SHIPPING TO THE USA.
THIS DISNEY DUMBO SWAROVSKI PIN BROOCH EASEL SET LE 1000 SHIPS BY USPS PRIORITY MAIL FULLY INSURED WITH DELIVERY CONFIRMATION.