Disney Mickey and Friends Pluto PWP Puzzle Set Pin New
STUNNING, UNIQUE AND HARD TO FIND!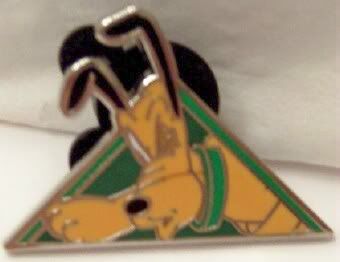 This is a Disney Theme Park exclusive item and cannot be found anywhere else.
Photos enlarged to show details.
Color of pin you receive may vary somewhat in person from as it appears in photos.
This listing is for one new:
Disney
Mickey and Friends

Pluto

Pin With Purchase
Puzzle Set Pin New
#1 POST WITH #1 MICKEY PINBACK
About 1.25" x 0.875" Max Dimensions
This listing is for only one pin of the Disney Mickey & Friends Pin With Purchase 5 Disney Pin Puzzle Set, the Pluto Pin. This is one pin from the five pin puzzle series.
Red letters in photo do not appear on pins.


The center square pin of the complete set is of Mickey (not included in this listing). There are 4 triangle pins in the complete set: the top (green) one is Pluto (included in this listing), right (red) is Minnie (not included in this listing), bottom (blue) is Donald (not included in this listing), and the left (orange) pin is Goofy (not included in this listing).
This listing is only for the Pluto Pin.

Guests were able to buy a Mickey and Friends puzzle pin for $1.00 with a $30+ pretax purchase. The pins came in a small sealed black plastic bag. Which pin the guest received was unknown until after purchase.
We have opened the bag to photograph the pin and so you know which pin you are buying.

This pin measures approx 1.25" across and 7/8" tall.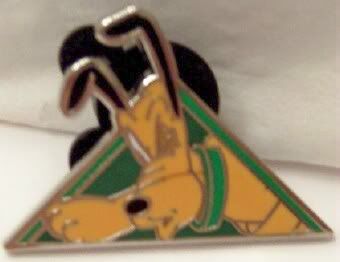 Pluto is in a green triangle. His ears stick out above the triangle. He has one eye closed and is looking down.

Pin is silver-finished.

Sand textured back stamped "MM Gang 3 of 5, Official Pintrading 2008, @DISNEY CHINA" Right under the post is the rectangle with "MM Gang 3 of 5" inside. Underneath to the right is another rectangle with "(C) DISNEY CHINA".
Includes one Mickey Icon Pin Back
This listing is for one pin only, the Pluto Pin from this set.
Please check our other listings for additional character pins (if still in stock) from this collection.
A must for any Disney or Pluto collector!!!
This Disneyana collectible makes a great gift for yourself or someone you know.
100% GUARANTEE OF AUTHENTICITY.
SUPPLY OF THIS BEAUTIFUL PIN IS LIMITED, SO TO AVOID DISAPPOINTMENT
BUY IT NOW!
Please be sure to read this listing carefully, thoroughly and completely and to ask questions before buying so you are completely satisfied with your purchase.
This listing includes free shipping to USA by USPS First Class Mail with delivery confirmation.